In This Series
Series Info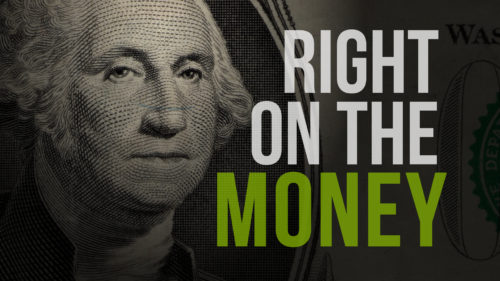 Right on the Money (4)
Sunday, June 10, 2018
Giving Right - Part 1

Pastor Ryan Foldhazi
Lead Pastor
Right on the Money
Giving Right – Part 1
Proverbs 3:9-10 NLT
Week 2
"Honor the Lord with your wealth, and with the best part of everything you produce.  Then he will fill your barns with grain, and your vats will overflow with good wine." Proverbs 3:9-10 NLT
___________________________________________
As a follower of Jesus, I understand that He owns everything. I'm simply a manager. ("in the bucket")
A tithe is simply 10% of whatever I receive.
A tithe is something I repay,
not something I give.
Returning my first 10% shows God where my heart is with him.
God wants our obedience, not our sacrifice.
"To those who use well what they are given, even more will be given, and they will have an abundance. But from those who do nothing, even what little they have will be taken away."  Matthew 25:29 NLT